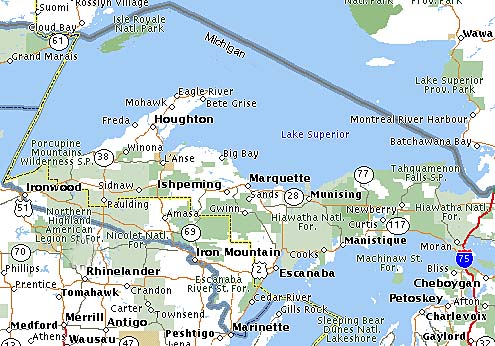 Michigan's Upper Peninsula -- by the shores of Gitchee Gumee and the land of Hiawatha. A land kissed by God and almost untouched by Man, except for its storied pioneers -- primeval aborigines, missionaries like Pere Marquette and Bishop Baraga, hardy trappers and lumbermen, rustic prospectors of the Copper Rush, lake-faring fishermen and mariners, and Nordic settlers who still inhabit the region's villages.

Discover the paths less traveled. Experience the planet's purest elements of earth, air, fire and water. Share the wilderness with virgin forests, big game, teeming fish, and the ghosts of heroes past. Eat distinctive regional delicacies like pasties, cudighi and wild thimbleberry jam. Learn the dialect and rich culture of the land's proud but friendly inhabitants.

At Anam Cara, you're in the heart of it all, just one hour southwest of Marquette and a few miles from US-41, one of the peninsula's two major thoroughfares.

Look below for more information on planning a unique and unforgettable vacation experience in Michigan's Upper Peninsula.

Travel information about the Upper Peninsula:
The official State of Michigan Travel Web Site
Some of the many local attractions: