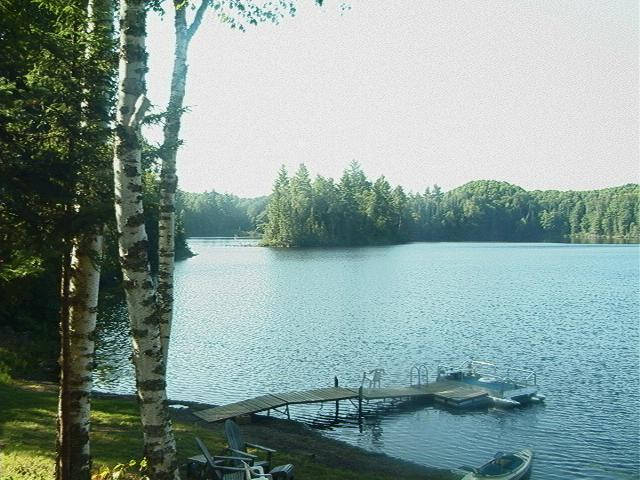 The retreat is located about 4 miles from US-41; the last two miles of private roadway is mostly unimproved, although it is navigable by a two-wheel drive vehicle. The property is more than 150 wooded acres, surrounded by land permanently preserved from development.

The boundaries include 4,000 feet of Spruce Lake shoreline -- fully half the 60-acre lake's perimeter. There are two other, usually unoccupied, properties on the lake. Also within the property lines are 2,000 feet of the Spruce River, a marsh, and a few ponds. The forest is maintained, and consists of a mix of hardwoods and conifers, including spruce, maple and birch.

There are two primary structures, the main house that sits high above the lake and a nearby building immediately adjacent to the shoreline that consists of a boathouse on the first level and a guesthouse on the second level.

A stairway connects the main house and deck with the shoreline, which features a dock with swimming ladder as well as a floating trampoline. Tethered at the dock is a 5' x' 10' pontoon platform boat with electric motor that serves nicely for fishing, pleasure boating (with seating for several passengers), or sunbathing. A large and stable Poke Boat (cross between kayak and canoe), two kayaks and a canoe are also available on the beach. Adult and youth life vests and rings are located in the basement. (NOTE: Flotation devices must be worn when on the lake.) Fishing for pike and panfish is very good right from the dock, and walleye can also be taken from the lake.

Guests may enjoy ample hiking and berry-picking opportunities in the near vicinity. Watchers of birds and other wildlife will find the lake and woods home to many species, including loons, moose, deer, bald eagles, bear (but not near the compound), coyotes, and innumerable other creatures.